A shop without a lathe is...well, a shop without a lathe.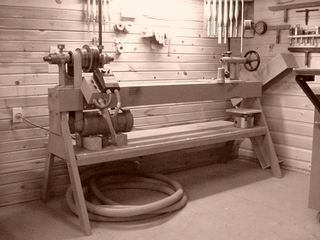 But it doesn't have to be and with a little time and perseverance you can outfit your shop with any size lathe you desire.
Here's mine...a 7' long behemoth with a between the center capacity of 58". The 2 HP DC motor and controller you see is the effect of a Darwinian process that evolved over time. I originally used a basic head stock made by a machinist that coupled with a jackshaft assembly located on the shelf below.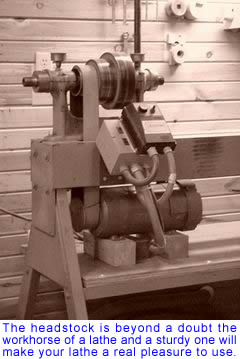 I was lucky to find the head and tail stock in a local machinist's shop. It's vintage lies somewhere in the early '40's and just happened to be perfect for my application. On a smaller lathe it would definitely be overkill. For yours, however, a machinist could provide a shaft, complete with through hole and left and right hand threads for a minimal cost. I chose to make the bed out of 1/4" x 3" x 6" angle iron and 1 1/2" x 3" tubular steel for the legs.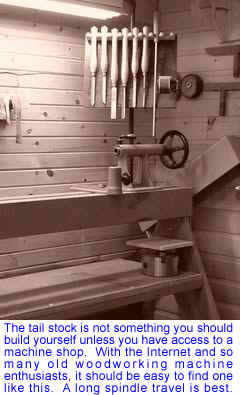 Here you can get a feel for the size - the outlet on the wall is 4' from the floor. The black box is the DC controller, the gray box underneath that houses all the electrical connections. The two black switches immediately to the left of the DC controller turns on the inboard and outboard lights.
In this photo you can see the light (har-de-har) above the inboard side of the lathe. It's supported by 1/2" black pipe that is bolted to the ways. I simply screwed a 4' florescent light to the framework and ran the wires through the pipe.

I didn't want to reach too far for the next chisel so I fashioned a rack that is supported by the black pipe. I also mounted a pencil sharpener to it that comes in real handy while standing at the lathe.
There is, of course, another option open to you.